The Club's Friday Morning ZOOM Meeting @ 10:30 AM – Gubernatorial Candidate Loren Culp
August 28 @ 10:30 am

-

11:30 am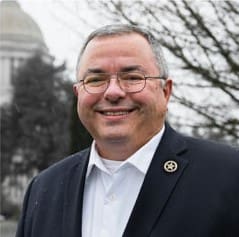 Meet Candidate for Governor Loren Culp on the Friday morning ZOOM meeting.
From the candidate's website:
Elected Experience
Chief of Police, Republic, Washington (appointed 2016)
Other Professional Experience
Law enforcement officer, city of Republic, 2010 to present; Narcotics detective; North Central Washington
Narcotics Task Force; dual-purpose K-9 handler; Owner, Stamped Concrete, 21 years; Combat Engineer–101st Airborne Division, U.S Army.
Education
Honor Graduate, Noncommissioned Officer Academy (Leadership Academy), 101st Airborne Division; Repel
Master School; Air Assault School; Drill Sergeant School (attended as a corporal); Honor Graduate, Combat
Engineer School.
Community Service
Police Chief of the Decade, Constitutional Sheriffs and Peace Officers Association, 2019; Hero of the Year,
Okanogan County Reader Poll, 2019; Key to the City of Republic, 2016; Life Member, Veterans of Foreign Wars;
Life Member, American Legion; Life Member, Fraternal Order of Eagles; Life Member, National Rifle Association;
Life Member, Gun Owners of America.
Contact info: (509) 496.8022; Info@culpforgovernor.com; www.culpforgovernor.com
All in-person club meetings (AM and PM) are suspended until further notice. Virtual meetings via ZOOM will be announced via email to Club members.