Maple Valley Rotary helps with Paint By Tunnels
August 28 @ 8:00 am

-

4:30 pm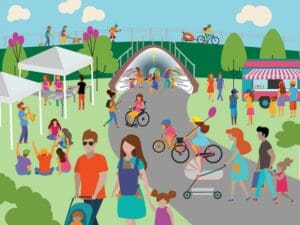 Time to get some paint splatter on!!
Sign up for the
Paint By Tunnels
Community event on Aug 28th. MV Rotary is a major sponsor of this event.
Jump in…it's outdoors, a fellowship op, and a paint bucket of fun!!
A few details from the Maple Valley Creative Arts Council:
MVCAC NEEDS VOLUNTEERS AGES 10 & UP FOR PAINT BY TUNNELS!
Do you wish the tunnels on the trail were a bit brighter and more inviting? Have you ever wanted to be a part of a community hands-on art project? The Maple Valley Creative Arts Council has just the thing for YOU!
PAINT BY TUNNELS 2021 is MVCAC's SECOND community mural event and will take place on the Cedar to Green Rivers Trail under Witte Road near the Maple Valley Community Center, Maple Valley Historical Society, and the Maple Valley Branch of the King County Library. Volunteer roles vary from setting up, to greeting visitors, to refilling and handing out cups of paint, to painting a mural.
The Maple Valley Creative Arts Council's goal for this project is to complete a quality work of art. To help ensure that this year's artist's vision is carried out to the best of our ability, we ask that all young painters be supervised by a parent/guardian and able to paint within defined areas.
Click here to sign up today!